Letter spacing
Overview
New! Do you want to improve the readability of your newsletters? Now you can with the new Letter spacing feature. It can be found in the editor sidebar for any text-based content.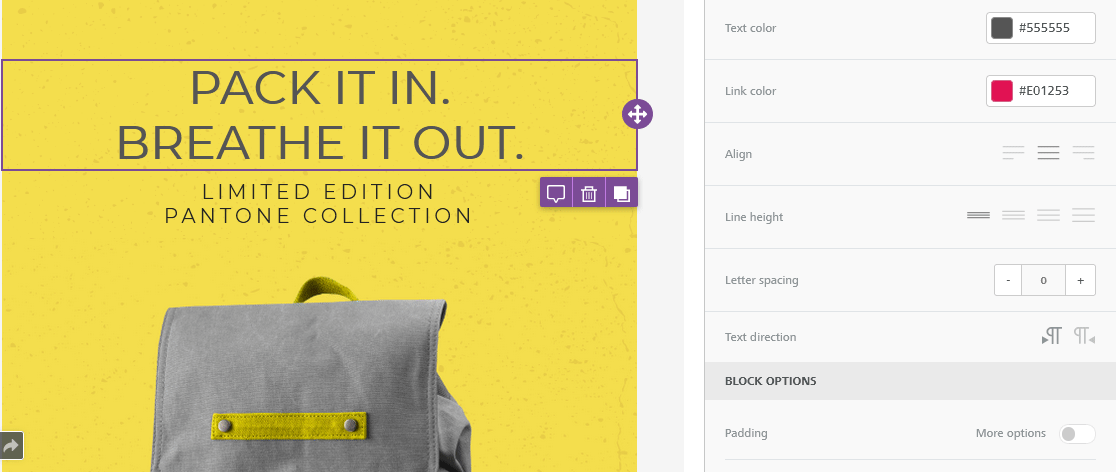 The new letter spacing feature applies to the following content blocks:
Text
Button
Title
Icon
Menu
How it works
By default, the letter spacing is set to 0 (the unit measure is pixels). You can adjust this with the - and + symbols found in the sidebar. Keep in mind that the value for letter spacing can be either positive or negative, so you can also use the feature to either increase or decrease the amount of space between your letters.
You can also manually type the value in, as long as it is a positive value. Negative values must be applied using the - symbol in the sidebar.
Limitations
There is a maximum value of 99 (or a minimum value of -99) for letter spacing.
The rendering (i.e. visualization) of letter spacing might differ across browsers and devices.
Use Cases
Not sure when to use the letter spacing feature? Most designers recommend using it sparingly, but here are some popular use cases to consider:
Improve readability of text content written in all capital letters.
Replicate text from a logo or hero image in text-only content.
Optimize text content for mobile/desktop devices.