October 2021 | Meta Tags
Looking for our developer-focused, technical documentation about this feature? Click here.
Summary
This update applies to Page Builder and Email Builder and is available for all paid Beefree SDK plans.
Until now, HTML content generated by BEE has contained no meta tags. This required an external method to allow them to be set outside of the editor, or those tags would be left empty. Empty meta tags may negatively impact email deliverability and landing page optimization.
Meta tags also allow users to set the content language. This improves SEO and general cross-platform application compatibility.
Meta tag customization, therefore, improves the quality of content created with BEE.
For more details, see the feature documentation.
Description of Changes
New Optional Properties
We've added three new fields to the Optional Properties section in the Settings tab of the sidebar. A user may now specify the Title, Description, and Language of a given property without exiting the editor.
Please note that the "Description" field is only available for Pages.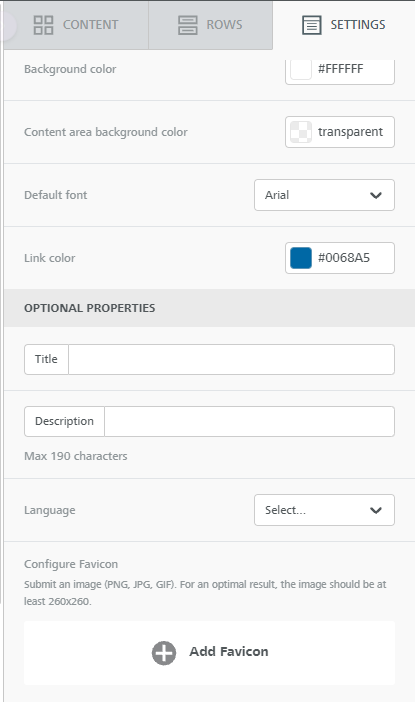 Implementation
To activate any of the new features, toggle the corresponding property within the Developer Portal.
Additional steps are required to configure language availability within the host application. For further instructions, please see the feature documentation.